My 15 Seconds of Car Talk Fame
Posted on Sun 03 March 2013 in misc
It was a dark day around our house several months ago when it was announced that no new Car Talk episodes would be recorded. The show has been part of my week for nearly 20 years. Like all great shows that are eventually put out to pasture, we can still enjoy reruns. Much to my surprise, this week's "best-of" show contained my 15 seconds of Car Talk fame.
Shortly after starting graduate school, I was dutifully toiling away on homework one Saturday morning with Car Talk playing in the background. This was long before the podcast era, so if you didn't hear it when it was originally broadcast you pretty much missed it for that week. At any rate, a Cub Scout Den Mother called in with some questions about how to advise her Cubs on the issue of weight placement in their Pinewood Derby cars. I wasn't completely satisfied with Tom and Ray's answer, so I wrote up a quick technical note called On the Placement of Weight in a Pinewood Derby Car and mailed it in, never expecting to hear more of it.
Some weeks later I got a phone call from a relative, asking me if I had ever sent anything in to the Car Talk guys. I confirmed that I had but was puzzled as to why he would know about it. It turns out that my write-up had been mentioned during a "Stump the Chumps" segment of the show that week, and he called to tell me about it. I had missed the broadcast entirely. This week's rebroadcast was actually the first time I heard it for myself.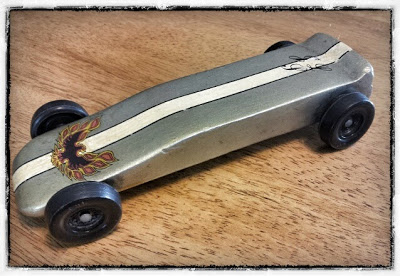 I still have my first Pinewood Derby car, the one that took first place in my local race. It stays safely packed away in a box and only comes out for special occasions. You can guess its age by the Firebird logo on the front. Thanks to a great father and to other great Scout leaders those were special days never to be forgotten.
Many years later now, it takes more than one hand's worth of fingers to count the number of derbies I've participated in with my own sons. I can say with fairly high confidence that, backed by empirical evidence, weight placement is not the most important factor in the speed of a car. Sure, you should still bring the car up to the maximum allowable weight and place that weight near the rear axle to be a competitor. But invariably the fastest cars have ultra low rolling resistance, and they track perfectly straight. No amount of weight fiddling can compensate for a car that incurs huge amounts of drag by continually rubbing up against the central track guide.